At Alcat Precast, we recognize the importance of maintaining the performance and longevity of your precast wastewater systems. As time goes on, the decision to repair or replace aging systems becomes a critical factor in ensuring operational efficiency, safety, and cost-effectiveness. Let's look into the factors that help you decide between repair and replacement and explore the modern options available compared to older septic tank systems.
Repair or Replacement: Evaluating the Right Choice
Repairs
Regular maintenance and timely repairs are fundamental for the sustained health of any wastewater system. If you observe any of the following signs with your Clearstream Wastewater System, it's likely time to consider repairs:
Slow Drainage or Backup Issues
Slow drainage and backups are indicators of a system that's not functioning optimally. They can lead to potential health hazards and inconvenience.
Unusual Odors
Foul odors emerging from the system can signify underlying issues that require attention. These odors could indicate a lack of proper waste breakdown or gas buildup.
Higher Utility Bills
If you notice an unexpected increase in your utility bills, it might be due to an inefficient system that's consuming more energy than necessary.
Visible Leaks or Seepage
Leaks or seepage around the tank or pipes can cause contamination of the surrounding soil and groundwater, posing environmental and health risks.
Should any of these problems arise, it's essential to contact a septic expert promptly and have their team conduct a comprehensive inspection to pinpoint the root cause and recommend cost-effective solutions for repairs.
Replacement
While wastewater systems are built for durability, there comes a point when aging systems might no longer meet performance standards or adhere to current environmental regulations. Consider replacing it with a Clearstream Wastewater System if: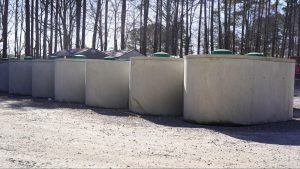 Age of the System
If your system has surpassed the 20-year mark, it might be nearing the end of its optimal lifespan.
Frequent and Costly Repairs
If repairs are becoming more frequent and increasingly expensive, investing in a replacement might be a more sustainable option.
Increased Water Usage
A rise in your household's water consumption can strain older systems, leading to diminished efficiency and potential malfunction.
Inadequate System Performance
If your Clearstream system no longer effectively handles the wastewater demands of your property, a replacement system can restore functionality.
Alcat Precast is here to guide you through the process of selecting a Clearstream system that suits your unique requirements and aligns with local regulations. Our modern wastewater treatment solutions are designed to be efficient, environmentally friendly, and financially prudent over the long term.
Options for Repair and Replacement
Repair
Component Replacement
Replacing faulty components like pumps, filters, or control panels can restore system functionality.
Tank Refurbishment
Refurbishing the existing tank can extend its life and improve its performance.
Replacement
Clearstream Systems
Our advanced, energy-efficient, and cost-effective treatment system offers enhanced wastewater treatment capabilities and is an excellent choice for upgrading oldersystems with state-of-the-art wastewater treatment technology, ensuring high performance.
At Alcat Precast, we understand the intricacies of maintaining your wastewater systems. With our expertise and range of modern replacement options, we're dedicated to helping you make informed decisions that ensure the long-term efficiency, safety, and sustainability of your wastewater systems. Contact us today to make sure your investment will have lasting benefits for your property and the environment.